FREE Single Vision Rx Lenses

FREE Anti Reflective, Scratch Resistant coating
30 Day Money Back Guaranteed
Shipping
Most orders placed for delivery in the United States are shipped from Kentucky or Florida. Delivery outside the United States is not available. Orders are usually shipped from these locations within 10 to 14 days from date of the order, depending on prescription type and other factors, and, as with all medical devices, your order is subject to government inspection, shipping delays, strikes and other unforeseeable events.
Returns
You will have thirty (30) days from the date of delivery of your order to return items included in the applicable order. If you are not satisfied with eyeglasses you have ordered from us, you may return those eyeglasses and you may elect to receive either (a) an exchange for an equal priced item, OR (b) a one hundred percent (100%) refund, returned to your credit card.

Frame measurements are listed in mm (millimeters)
If you wear glasses and have a pair already, check the inner side
of the temples (arms), you may find the size information stamped.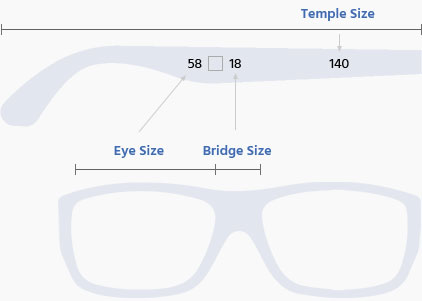 30-DAY
MONEY BACK

USA based
labS